I decided to skip the sneaks, and get right to the good stuff!
This month I was thrilled to design with the "Sam" kit! I'd seen this paper in the LSS, and was dying to get my hands on some. I adore it's teal/brown/rust color combo, and of course...whoo doesn't love a cute little owl? When I ripped open my bag, I was blown away by what Martha paired this adorable paper line with...Prima swirlies & posies, a fun Bo Bunny chipboard alphabet, plus diecuts, rubons, and cute little felt doo-dads! What fun I had creating my projects!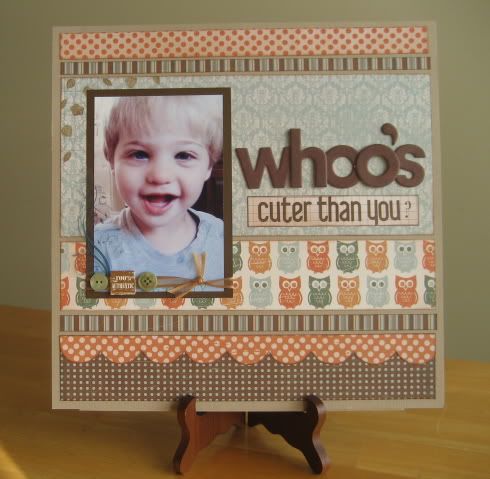 Whoo's Cuter than You?:
This was the first layout I made with a candid photo of my nephew in the middle of showing off some new talent he seems to think is pretty cool. I cut my paper into strips for this one, inked the edges with Chestnut Roan, and pieced it together. The subtitle is made using some rubons I had in my stash, and I used my cricut to cut the scalloped border. It's a little on the simple side, but really leaves the photo as the focal point, and I'm liking that!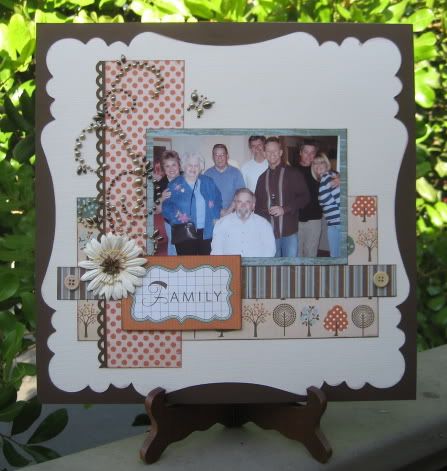 Family:
There's that new Prima swirlie I was talking about, isn't it gorgeous? For the background here, I used this great big Ellison die from my LSS to cut the cardstock into that fun shape. I mounted the title with foam dots for a little dimension, and punched that brown scallop strip using my Fiskars Apron Lace punch (still LOVE that punch!)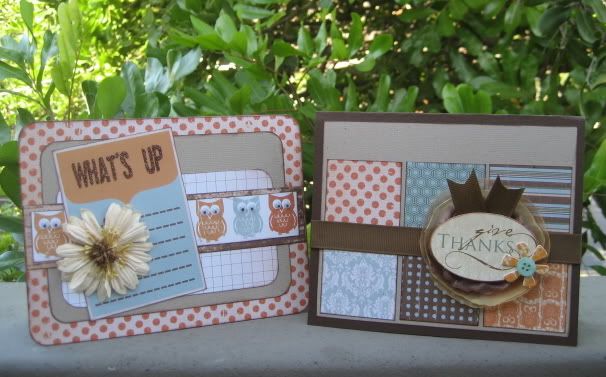 Cards:
Is there a better way to use up paper scraps? Nope! For the "what's up" card, I used a little glitter to jazz up the sentiment, and then stuck on some little googly eyes on the owls...doesn't it just give them the cutest personality?
Lastly, I made this little mini album to show of the latest collection of pictures I've been snapping of my nephew when I visit every week. The book is made from a PineCone Press flip book that I got for $5 at my LSS that looked so fun to make. I did add a couple rhinestones from my stash, and a small rubon font, but everything else here is in the fabulous November kit!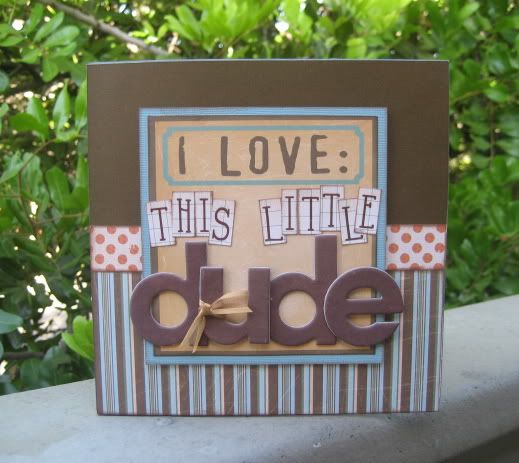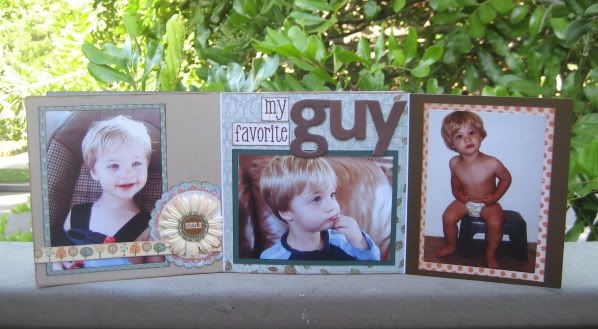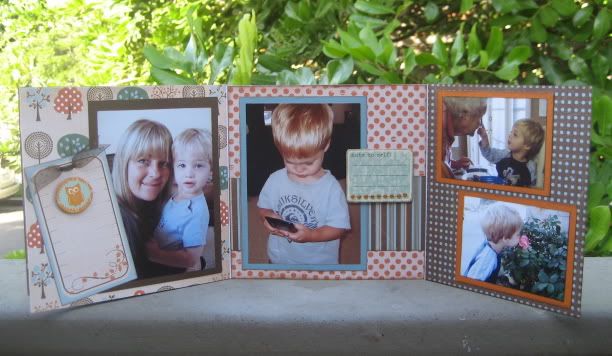 Those of you that are getting this kit...I just know you're going to love it as much as I did! Have fun with it, and don't forget to share what you make with us in the Kit Layout Contest forum...you could even win a prize!