Yep, you heard right!
ScrapbookDeals4U
is offering FIVE fabulous kits this month featuring FIVE fabulous must-have paper lines from FIVE fabulous maufacturers:
Kit #1 Features Cosmo Cricket's Snorkel line, just waiting for your summer beach and pool photos :
Kit #2
is stuffed full of the bright and cheerful "June Bug" collection by Basic Grey and is busting at the seams with coordinating embellishments:
Kit #3 features the bold, bright graphics of Scenic Route's "Garden Grove" collection:


Kit #4
is filled with the "Delight" collection by Fancy Pants, and the fabulously talented Kelly Goree has agreed to guest design with this adorable kit! Pop over to the message board later this week to see what she's done with it. It's sure to be inspirational and wonderful!
And finally, Kit #5 features the bright, beautiful "Cherry Hill" collection by my personal favorite, October Afternoon. And because I have friends in high places (thanks Martha), I was lucky enough to design with it this month!
I opened my kit, pulled out all the pretties, and from that point on, the layouts practically designed themselves! Everything in this kit coordinates so perfectly, making it easy to throw together wonderful pages in a snap! Here are my designs:
A Grandmother's Love is For Keeps:
I just love this photo of my grandmother and my nephew, and in black and white it really pops off the colors in this kit, since they are mixed with black as well. I love the romantic feel of the dictionary background paper, and how cute are those teeny felt butterflies? I did add some tiny alpha's from a previous kit, and a couple of rhinestones from my stash...gotta use that stuff up!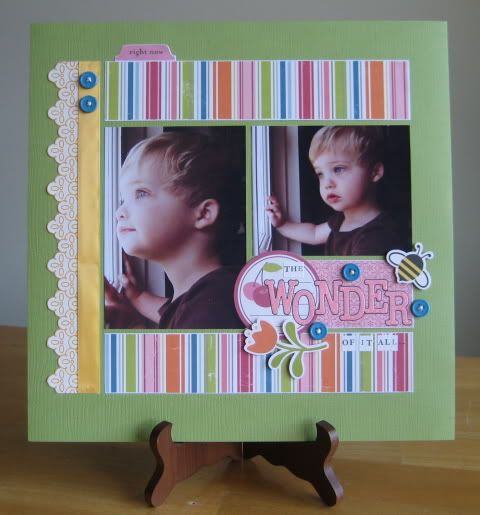 The Wonder of it All: This is another favorite recent photo of my nephew as he stares out the back door longing for freedom. I wonder all the things he's wondering, hence the title. Everything here is in the kit, with the exception of the blue buttons I pulled out of my button jar. Isn't that yellow scallop border on the left side of the page super cute? I cut along the pattern of one of the papers in the kit, and voila! Looks just like one of those fancy punches, huh?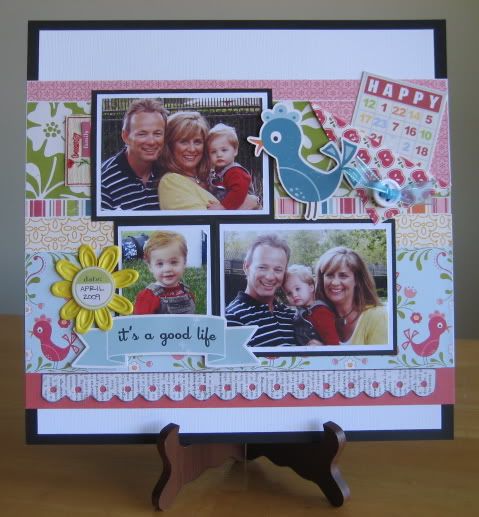 It's a Good Life: This is my brother, sister in law, and nephew on his first birthday...the paper in this kit is perfect for photos on a summer day in the park! And seriously, how cute is that die cut bird? Cool little FYI about the die cuts in this kit is that they're double sided, so no matter which way you want things to face, it's fine...just flip them over!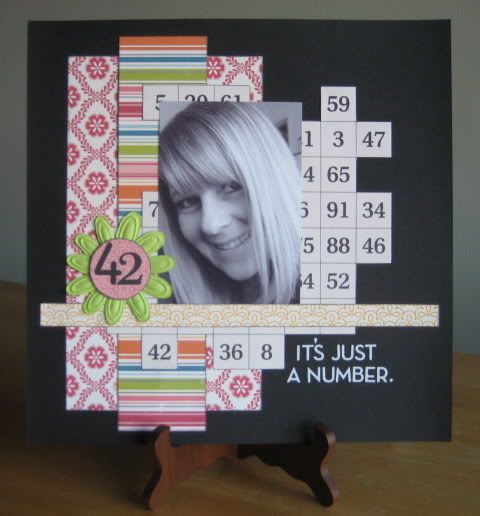 42...It's Just a Number: It's the mantra I've been repeating to myself since my birthday a couple of weeks ago...*sigh*. Really, I'm still 41 in this photo....don't tell anyone! I had to add some alpha's from my stash, after I ran out of e's...truth be told, I'm a major sissy when it comes to mixing alphabet fonts and colors.
And to celebrate the kids' return to school, SD4U is hosting it's own 3 week long back-to-school contest that sure to challenge and inspire you! It's called SD4U's Cramfest (like cramming a year's worth of classes into three weeks!!) and I promise it's going to be a ton of fun! Join us, won't you?