Basic Grey...you gotta love it! But as much as the papers in this "Origins" kit are beautiful, the embellishments included are a blingy dream! Glittered and blinged rubon flourishes and butterflies, layered & glittered stickers, fuzzy woolies...all SO much fun to play with without a huge mess!
Watch Me Grow: Admittedly, I am paper-folding challenged. I try to make those cute spiral-y flowers that are so popular right now, and end up with something that loosely resembles oatmeal. *sigh* But I see those cute pleated paper strips on layouts everywhere, and I love the texture it adds, so I decided to throw caution to the wind and give it my best shot for this layout! I will admit, though, I did measure and use my ruler and scoring blade, because I'm OCD like that :P And in the end, I'm so glad I did and am pretty dang proud of myself! The little fabric tree here was a freebie I picked up at CHA, but you could easily cut your own with some brown and green paper...there's plenty of it in this fabulous kit!
Ashley: This was such a fun layout to make! Check out my step-by-step in the class/tutorial forum on the SD4U message board to learn how I put it together, and made the hand-cut flower.
Do What You Love: For my Grandmother and I, that's travelling! In the kit, there's this gorgeous butterfly rubon, and I wanted it to really stand out on my page and hang off the title block...so I rubbed it onto a scrap of brown cardstock, trimmed around it, and outlined it with platinum stickles and BOOM! It just flew right off the page. I cut the title block from the Home Decor cartrige for the Cricut.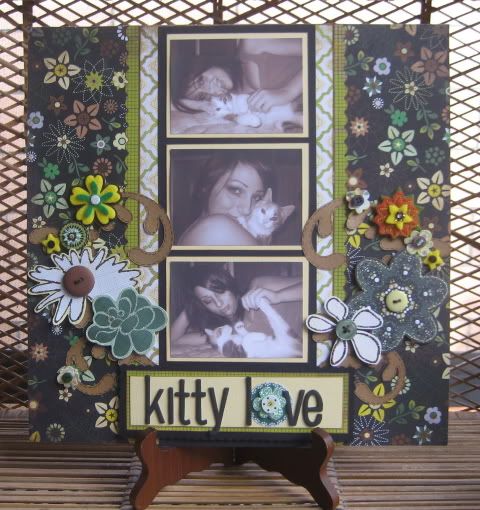 Kitty Love:
Oh, the flowers in this kit are so much fun to play with! On this layout I had a blast adding stickles and buttons and popping them up with foam dots. I cut the swirlies underneath with my Cricut and (again) Home Decor cart.
And Finally, a thank you card. I should send this to Martha for the awesome February kit!