October Afternoon is arguably my favorite paper manufacturer...and the Thrift Shop line in the May Kit has got to be my all time favorite collection from them! Something about the this particular color combination mixed with cream and black along with the nostalgic patterns and accents just really grabs me!
Once I got started on my layouts, I really had to force myself to stop at night! One idea kept leading to another, and I was able to finish 4 layouts and a card this week alone: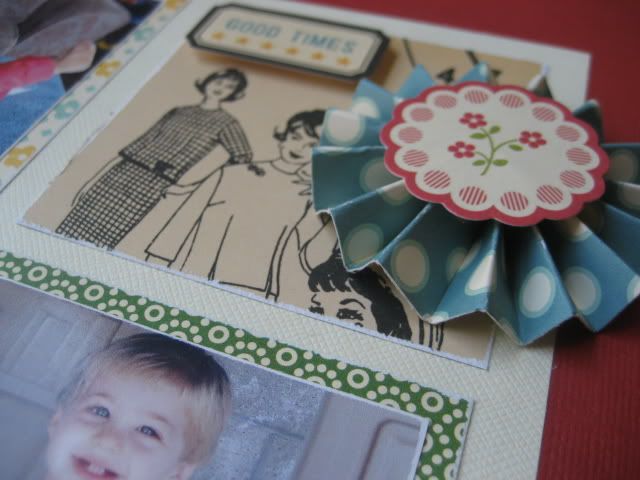 Play: This layout features that super cute nephew of mine, and was the first layout I finished. I think I subconsciously went with this patchwork design because I wanted to use ALL of the paper, and as LITTLE of the paper as possible at the same time...LOL. I try not to, but I can certainly be as guily of hoarding beautiful paper as the next guy! I cut this title using the Cricut and Simply Sweet Cart...love this font!
Before She Was Mom: This nostalgic paper line was screaming for me to use some older, black and white photos, and this was the result. I cut the "collectors item" pattern into this scalloped border for the top and bottom, and I love how it ended up looking just like old fashioned lace. Note: I will be posting a tutorial of the fabric flower for this layout in the class/tutorial forum over the weekend!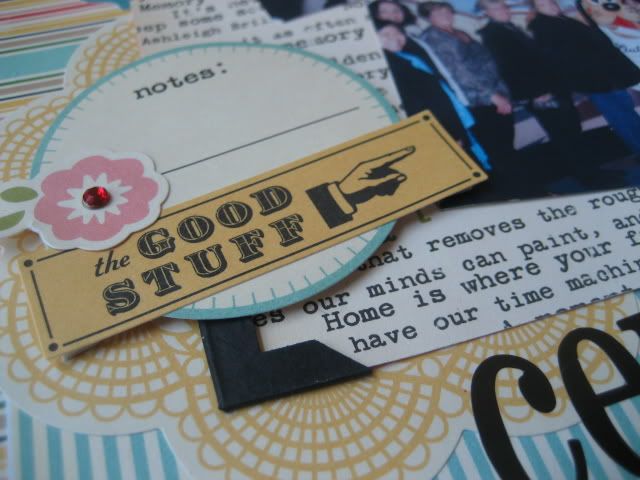 Celebrate: Some of you will recognize my good friend Alice here celebrating her birthday with her favortie people...Minnie Mouse and Pluto. I kept this layout pretty simple, since the photos have a lot going on in them. And I just noticed, I forgot to add the date in my journaling circle...'doh! Gotta remember to go do that right away...
Still My Baby: I think this is my favorite of the bunch. The more colorful patterns just POP right off the black and cream paper background. For a little extra femininity, I accented the flower stickers with some red glitter and rhinestones and pearls....then staggered the cluster dimensionally with pop dots. And all you moms out there will agree...no matter how old they get, they're always your babies...right? My "Baby" turned 23 this year!
And here's something I threw together with my scraps...because you KNOW that paper is just too cute to throw even the smallest scrap away:It's just a little 4"x4" note card that took just a minute to throw together. Aren't those OA letter stickers ADORABLE? They're just like the little MM ones, only bigger, and I LOVE them...they are the perfect size...not to small and not too big. Perfect for sub-titles and card sentiments.
Thanks for taking a peek at my projects, and if you've decided you NEED one of these delightful kits for your own, pop on over to
SD4U
and order yours quick, before they're all gone! You won't be disappointed!