This "Quite Contrary" line from My Mind's Eye was the line I saw at CHA winter that really, really struck me and let me tell you, I was beyond excited that when I found out I would be designing with it this month! I mean seriously, is there a paper line that screams my name any louder? I don't think so! If you know me at all, you know I love me some bright, bright colors! And of course, pair the above mentioned paper line with an entire jar of matching Prima flowers, some blingy-bling and matching ribbon, and you KNOW I'm in heaven!

Here's what was inspired by this fabulous kit: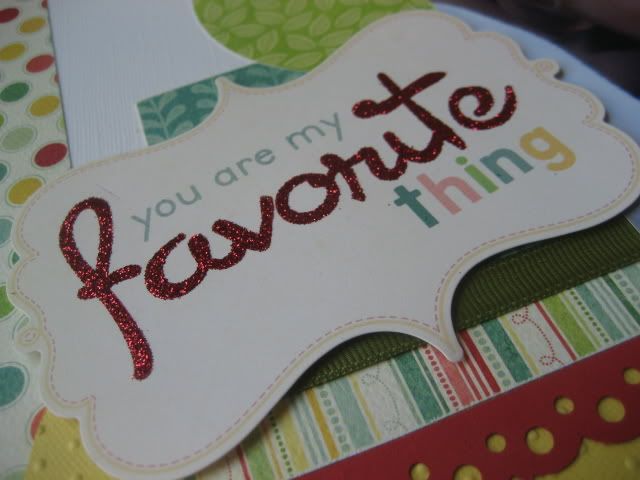 My Favorite Thing: Of course that would be my little nephew Clayton! I built this layout on a sheet of white cardstock from my stash...and for a little extra fun, I filled in the letters of the word "favorite" from the cardstock title block with quickie glue and sprinkled on some red glitter. I even busted out the "swiss dots" cuttlebug folder for the yellow circle here...it added just the right touch to an otherwise boring cardstock circle :)
Happy Bird Day: My Friend Patty is such a nut...'nuff said about that! Here, I used my new Martha Stewart punch for the first time on the vertical yellow cardstock strip, and I just LOVE it...isn't it fun? I also couldn't resist adding a little "googly" eye from my stash onto the cardstock bird in the kit...it just totally added a little character!
Life Is Good: I just love the title blocks that come with this kit...it's nice to have a title premade for a change...it frees up time to do other stuff, like layer flowers and make ribbon leaves! The flower centers here are from my stash...I'm not exaggerating when I say I think I've had these corduroy brads for at least 6 or 7 years!
Hello Card: Putting that cuttlebug to good use again! And I just love the little stamp set that came in the kit! For my sentiment here, I stamped the little bracket shape onto white cardstock, stamped my sentiment inside and mounted it to the front of the card with foam tape after trimming it...simple and adorable!

In other news, I'm working on something pretty exciting and should be able to share with you very soon! Stay tuned...